Our artists "draw a crowd" using state-of-the-art technologies and digital displays.
Wow your guests with our digital caricatures at your next trade show, convention, or corporate event!
Digital Caricatures
Within Chicagoland Area
2 Hour Minimum

10-15 faces/hr black and white

6-10 faces/hr color

4×6, 5×7, or 8×10 prints

Creation of web page to host your event's digital caricatures for guests to download

Custom themes and preprints incur an extra charge. Please contact us for a quote.
Digital Caricature Event
October 10, 2016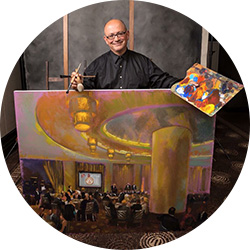 Lothar Speer, Digital Caricatures
Faces in Focus owner Lothar Speer draws digital caricatures on October 10, 2016.
Please right click the images in the gallery to save them.
Frequently Asked Questions
How many faces can you do in an hour?
Our artists can draw 10-15 faces black and white and 6-10 color.
How early should I have the artist arrive?
To make sure that the equipment is operating smoothly, we ask that the artist has access to the event space 2 hours prior to the start of the performance.
Do I have to pay a deposit?
Yes. To lock in the date and time, a 50% deposit is required .
What do you need me to provide for the artists?
Our artists require these things:
Electricity/access to an outlet
Table (4×6 preferred)
4-6 chairs
Venue Parking
What equipment will the artist provide?
Our artists will provide:
1 tablet or lap top
1 digital stylus
1 printer
1 back up set of each
1 monitor
Have any questions?
Need a quote?
Have any questions?
Need a quote?
Faces in Focus has been Chicagoland's premier caricature, face paint, and portrait outlet for the general public with a location at Navy Pier since 1997. Our award winning artists have been featured on national tv and bring the WOW factor to your event!
We would love to hear from you.
600 E Grand Ave
Chicago, IL 60611
(312) 870-0662
Follow us on social media!