Here's what our clients have to say…
"Had Anita at my daughters Birthday Party and the kids (and Adults ) LOVED HER! She did a special caricature for my daughter and was very sweet and kind to my daughter as well as the other kids that were there. She was very punctual and did amazing work! She did all the kids caricatures and face painting in the two hours, and it was fabulous! A couple people from the party took her cards and said they will be looking into hiring her for their next event!  And so will we (again)!!!!"
Melinda A.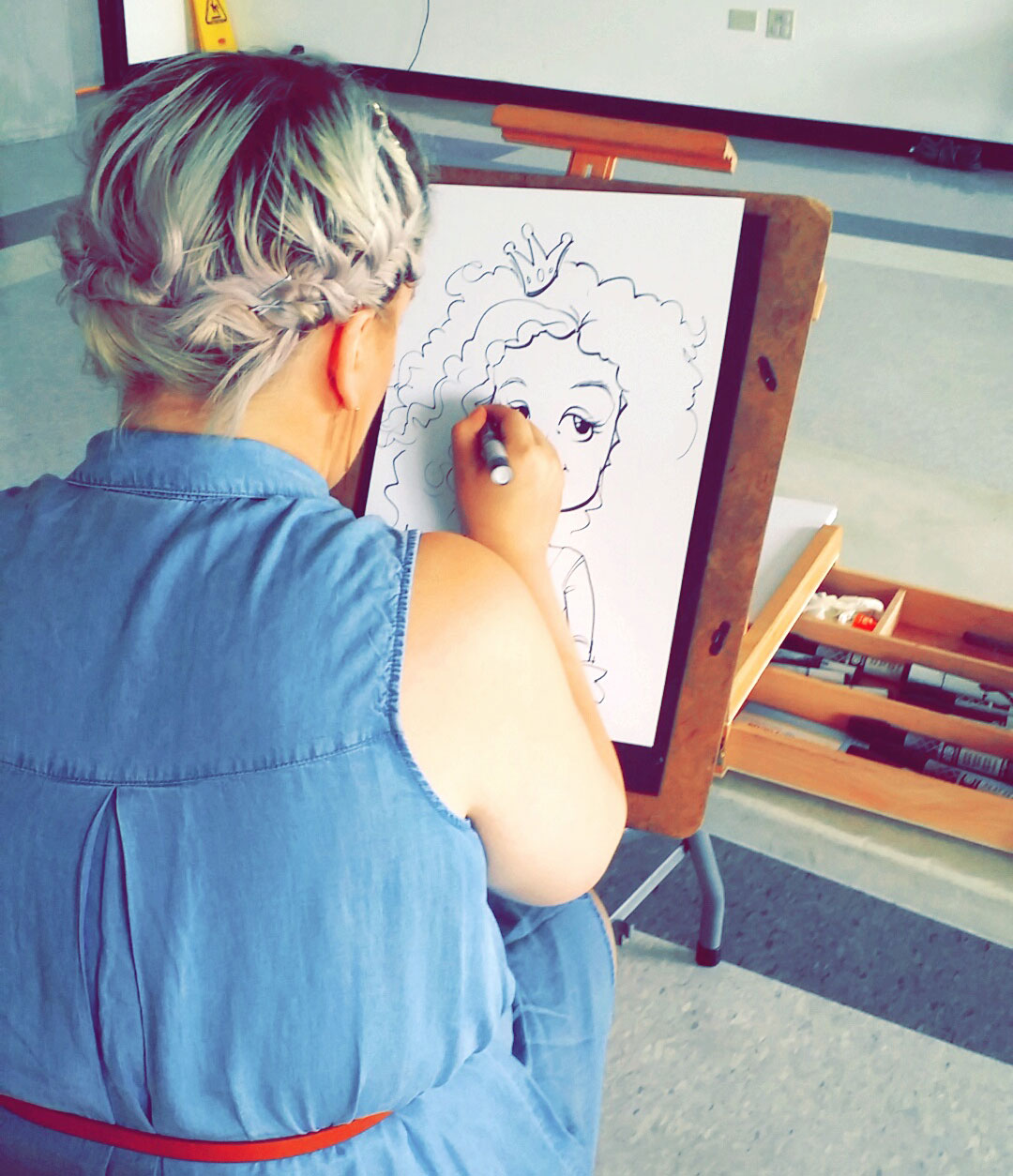 Great work done by staff. Very friendly staff and willing to work with everyone. Faces and Focus is one of the reasons we came back to the Navy Pier. So excited when we seen that they moved to a different location in the Pier to get our picture. Our family has grown so we came back after 10 years to get updated family photo done just by an artist of Faces and Focus . Lothar did our updated picture today and he did a WONDERFUL job. He kept my 4 year calm and happy while he got all of us together for the character photo. Will always come back and look for Faces and Focus to add to our collection of art.
Cheisa
This is a place I will always remember!!!! They were beyond helpful in my fiance mission to propose. They all played it off wonderfully I was beyond surprised. The gentleman captured the moment in an amazing drawing and the lady got it on film!!!!! Service was amazing and made my day SPECIAL!!!!!!!! Make sure to stop here if your at the pier!!!!!!
Amber
I needed a family caricature for a very special event done and had very little time before the event. Lothar at Faces in Focus came through with flying colors..he was very responsive, shared with me sketches and the final product (and creative design) was much much better than what I was expecting.
I was in a rush as the prior caricature artist I had reached out to was very unresponsive and left me with a little more than a week to get this picture done. Lothar's commitment and responsiveness was awesome and his overall price was right for the picture as well.
Ai
We had the privilege of working with Lothar at our wedding last weekend. Lothar was extremely easy to work with and very accomodating to our last minute wedding preperations. Not to mentiom that his work is absolutely fantastic!! Our guests loved the caricatures and raved about how personable and fun Lothar was. We couldn't be happier with the outcome and wonderful service that Lothar provided!!
Nickole
Anita was awesome. We hired her for a client holiday event to do face painting with the kids. Great detail and was able to take requests too. I highly recommend her for any event.
Joe
Had my caricature done today with my boyfriend by Anita. She's an absolute doll!! She's very sweet and won't accentuate your "worst" assets. I love the piece she did for us, well worth the price. We're going to frame it and keep it foreverrrrrrr!
Kyle
Faces in Focus on Navy Pier is by FAR the best place ever. Me and my hubby went there planning to get drawn and boy were we blown out of the water. We had Lothar as our guy (he is the owner) he was amazing!! The other two gentlemen that were there did pretty good work of what we saw. We had two pictures done. One was a regular caricature of me and my husband,and the other one was a very special request. I wish I could go here every day and get myself drawn. Well worth the wait if there is a line and even tho the black and white is cheaper it is way better to get it in color. LOVED coming to them this was the best birthday present my husband has ever got me it is pricless!!!! By the way their humor is a little dry but that is the way they are. They get funnier the longer you talk with them
S
I contacted them and asked about drawing a picture of me proposing to my fiance. Everyone was great in helping me set the plan and the artist did a great job keeping the secret. The caricature itself is amazing looking. I would highly recommend this company to anyone looking for a memorable moment at Navy Pier.
Dan
Amazing! The artist was friendly and even recommended local places to visit for out of towners. The caricature turned out great!
Megan
"I just moved here from Texas and my dogs stayed with my dad who adores them…I was looking for a Fathers Day gift for my dad and stumbled on this caricature stand. Eric was the artist and he had just drawn a girl before me and I was shocked at how good the likeness was…I asked him if he could draw a pic of the dogs for me from a photo and he gave me a great deal. As he was drawing, I asked him if there was any way he could put any touch of Chicago into it, but I was thinking of like a small map of Chicago or something. When he showed me the pic, I was almost in tears. It was AMAZING!!!!! The likeness was awesome (he even got a common expression of one of my pups), he had drawn the amazing Chicago skyline, which was going to be such a cool touch sending it to Texas from Chicago. The pic looked so good, I wanted one for myself. Giving it to my dad for Father Day, he LOVED IT!! Eric, I can't even begin to thank you…your talent is amazing!"
Mable N.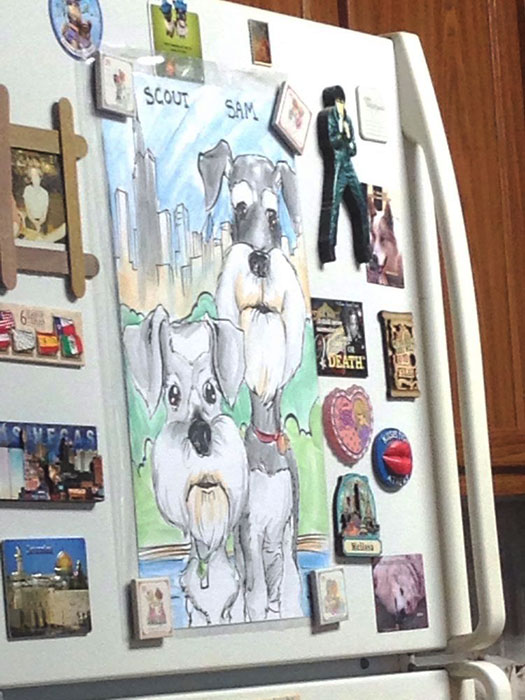 Have any questions?
Need a quote?
Have any questions?
Need a quote?
Faces in Focus has been Chicagoland's premier caricature, face paint, and portrait outlet for the general public with a location at Navy Pier since 1997. Our award winning artists have been featured on national TV and bring the WOW factor to your event!
We would love to hear from you:
600 E Grand Ave
Chicago, IL 60611
(312) 870-0662
Follow us on social media!